In the Community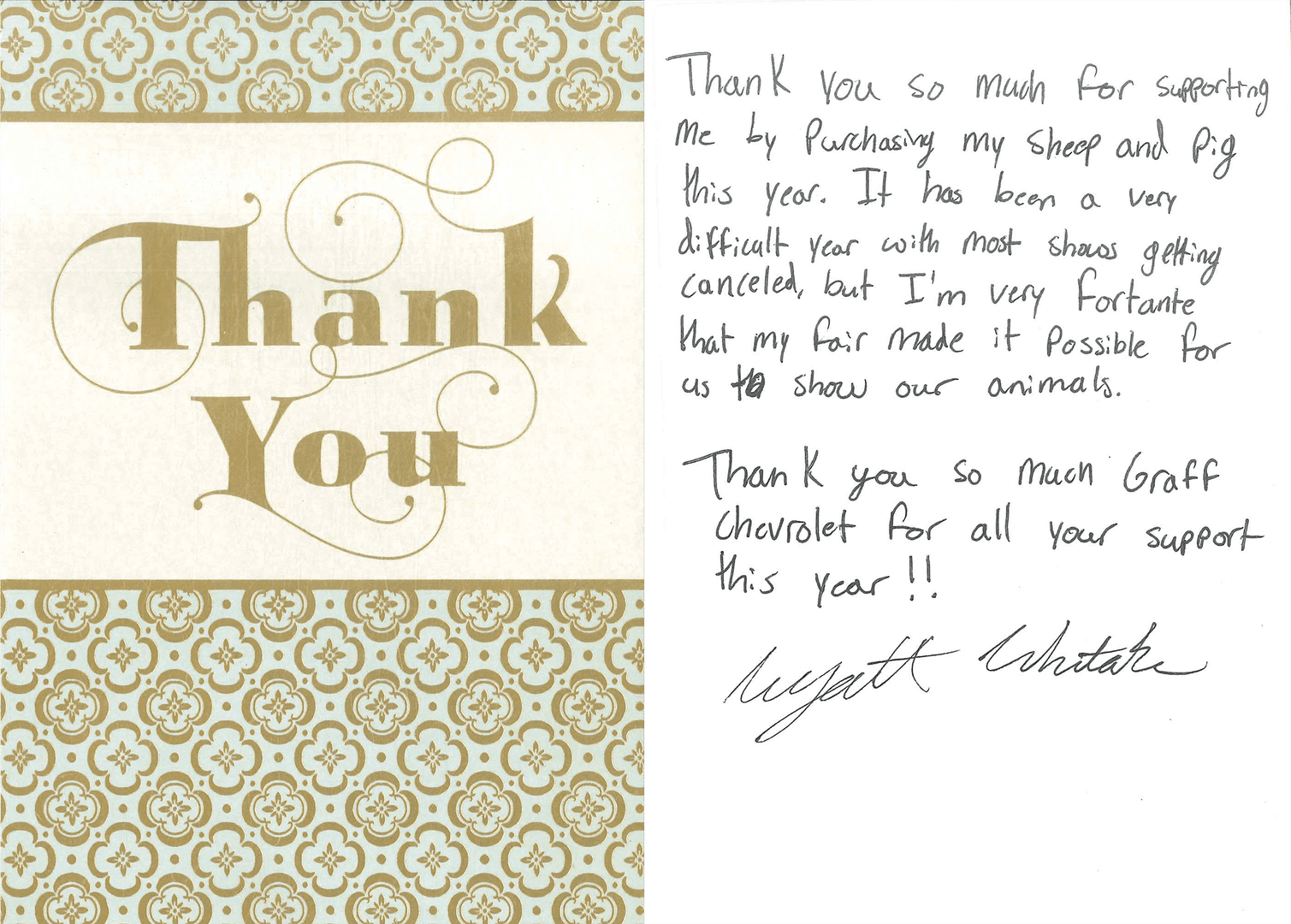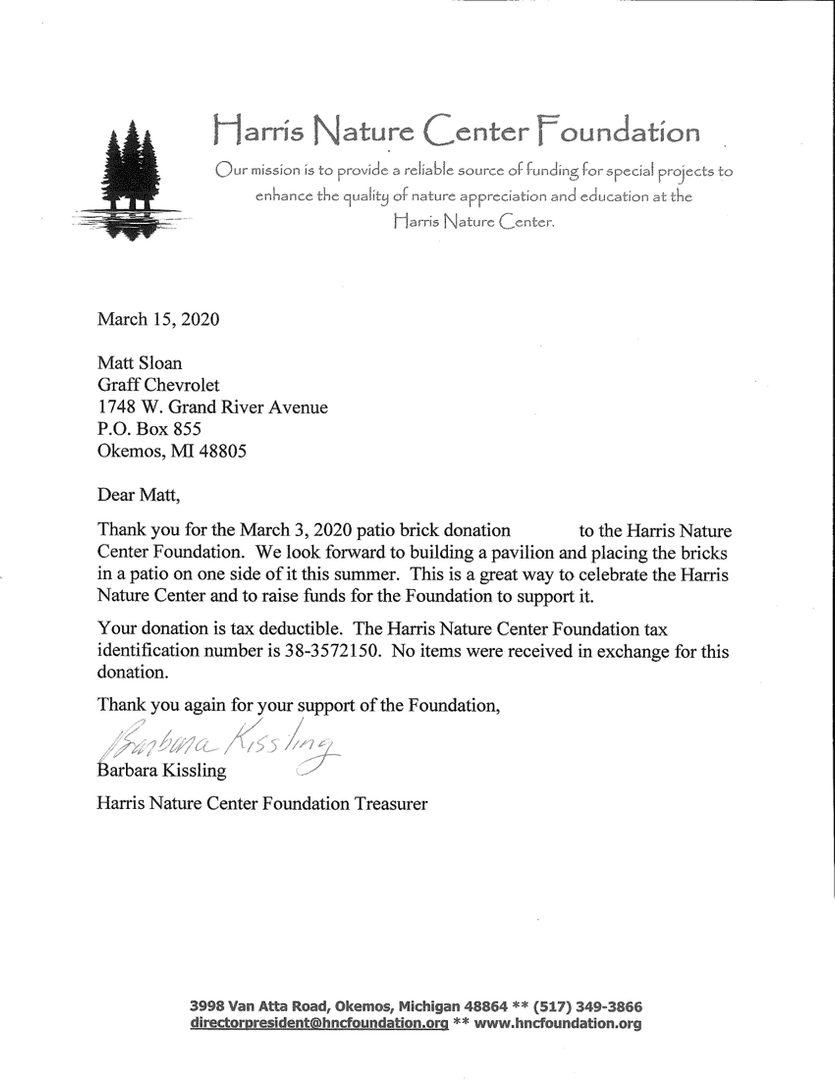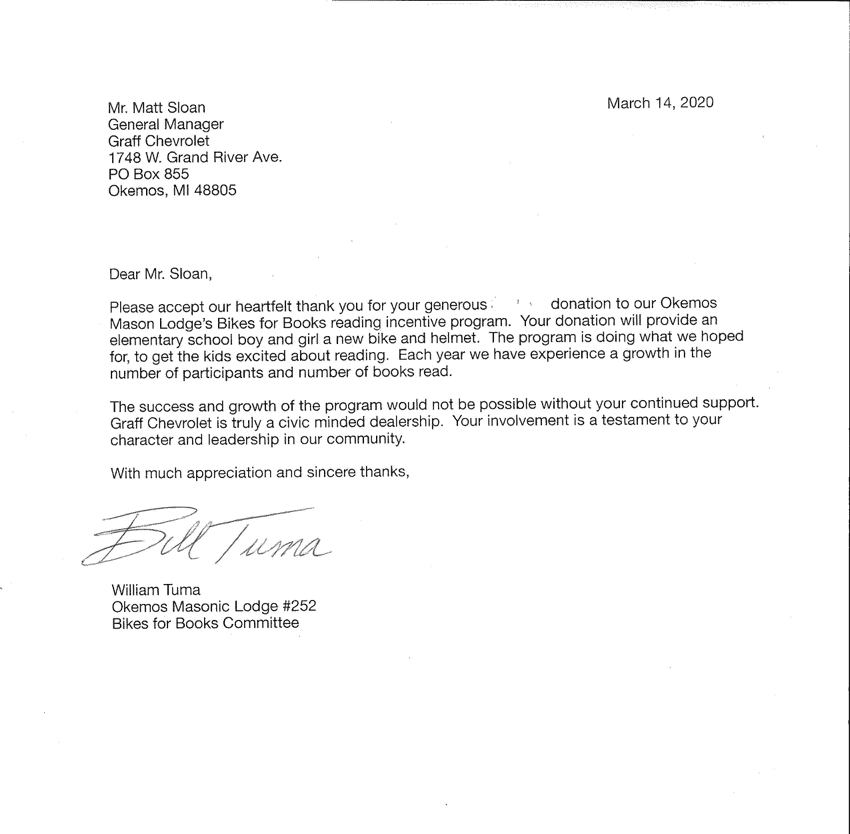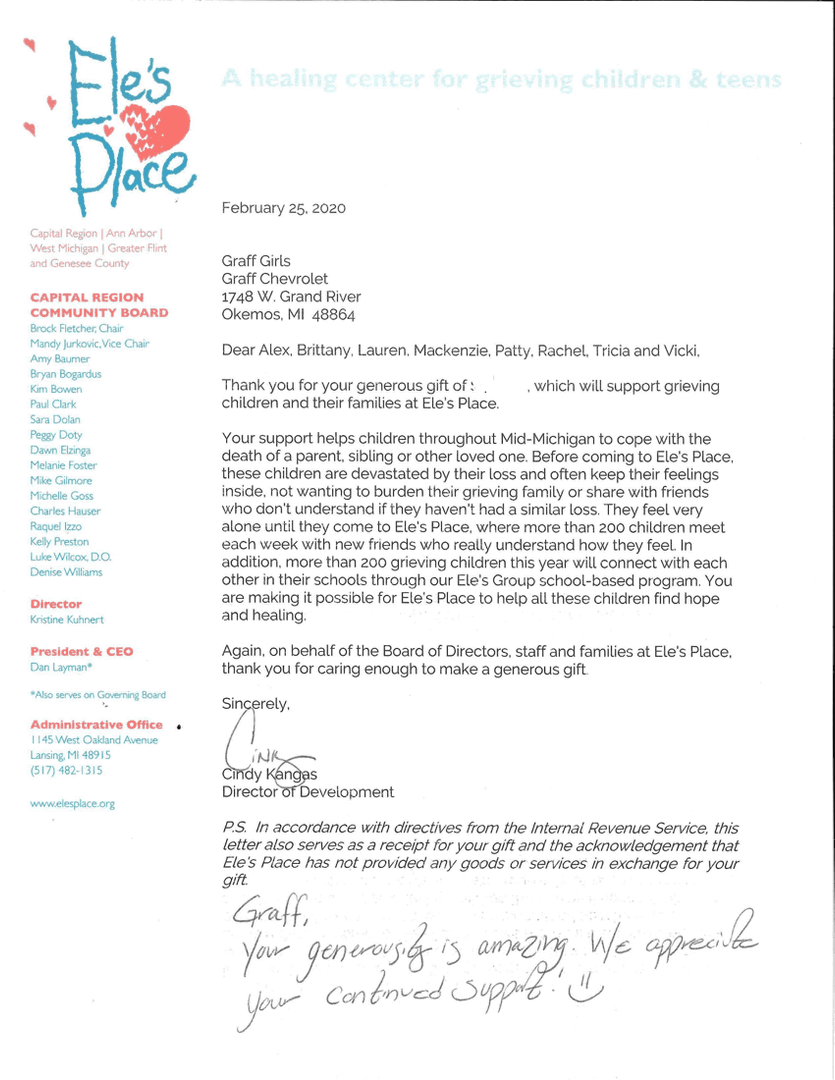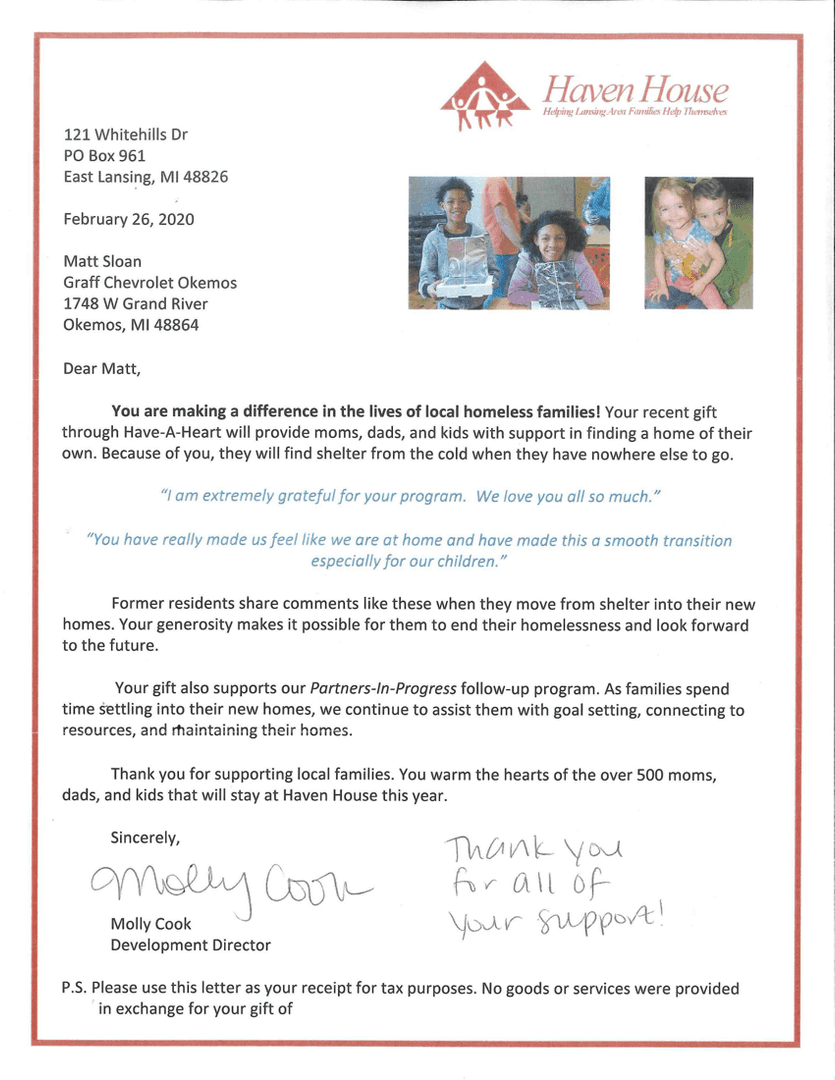 PROUD PARTICIPANTS AND SPONSORS OF THE 4TH ANNUAL SPARROW FOUNDATION GINGERBREAD HOUSE FUNDRAISER!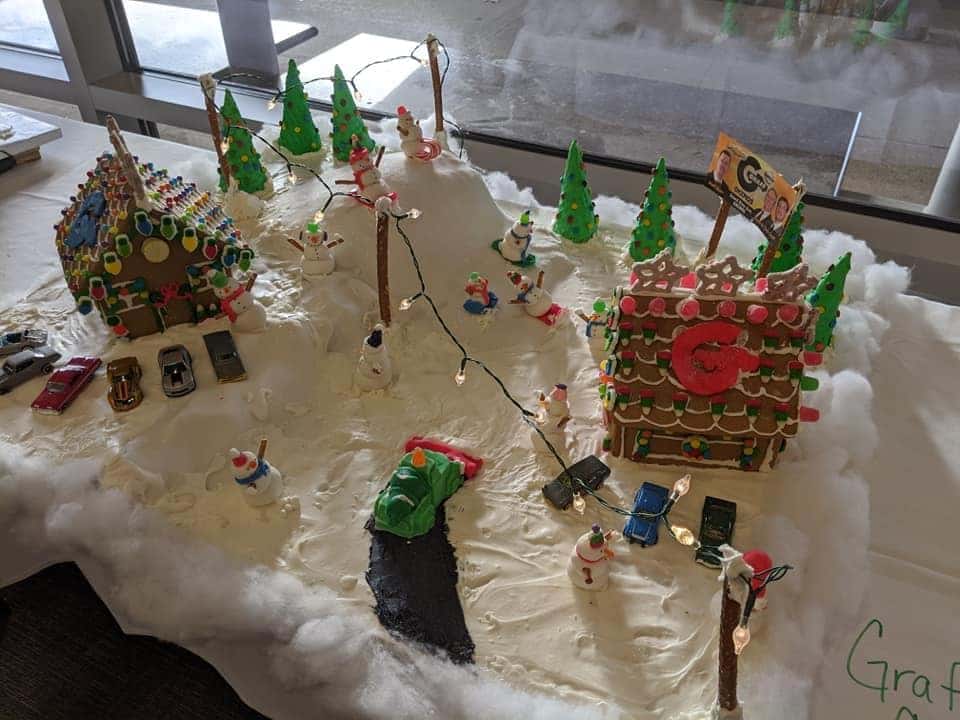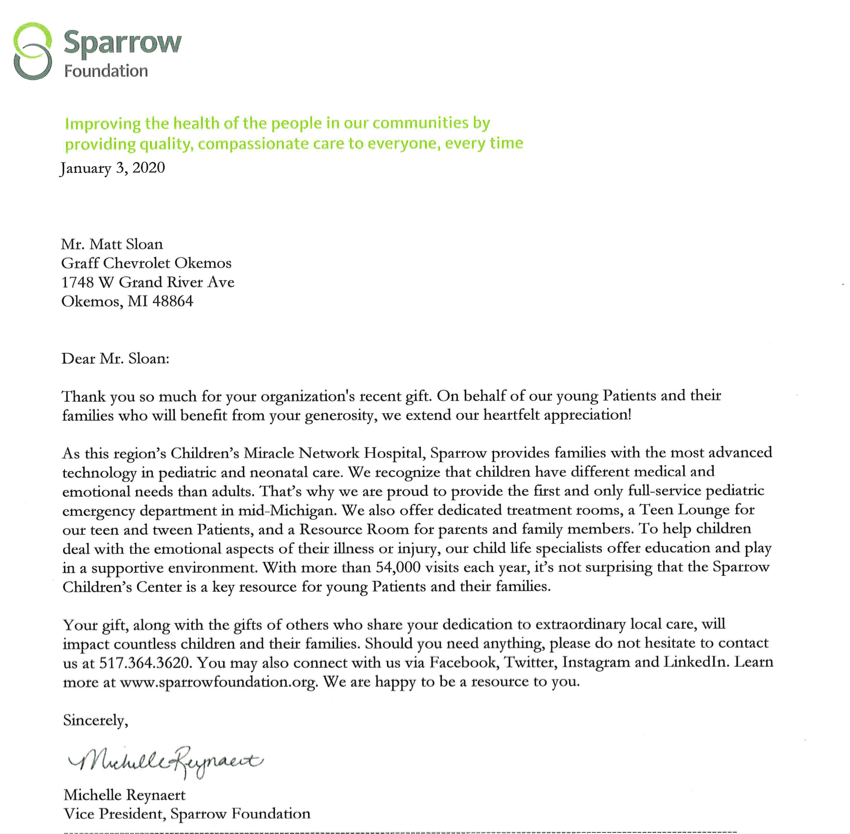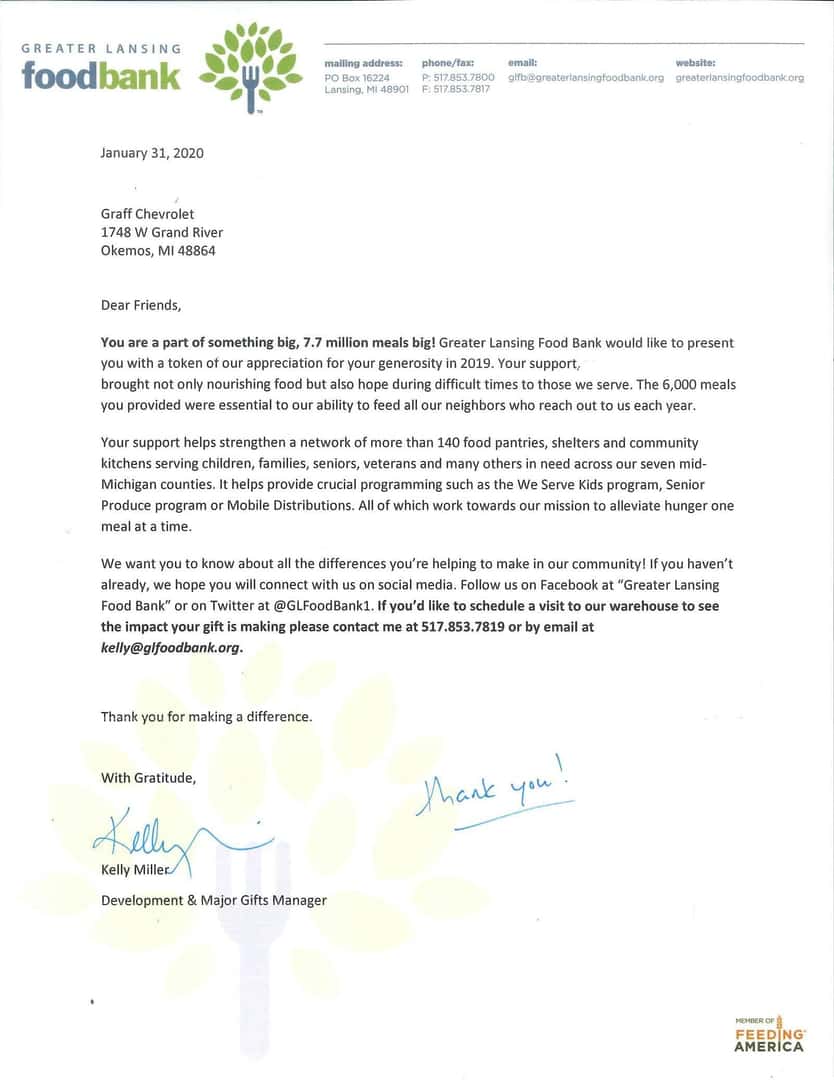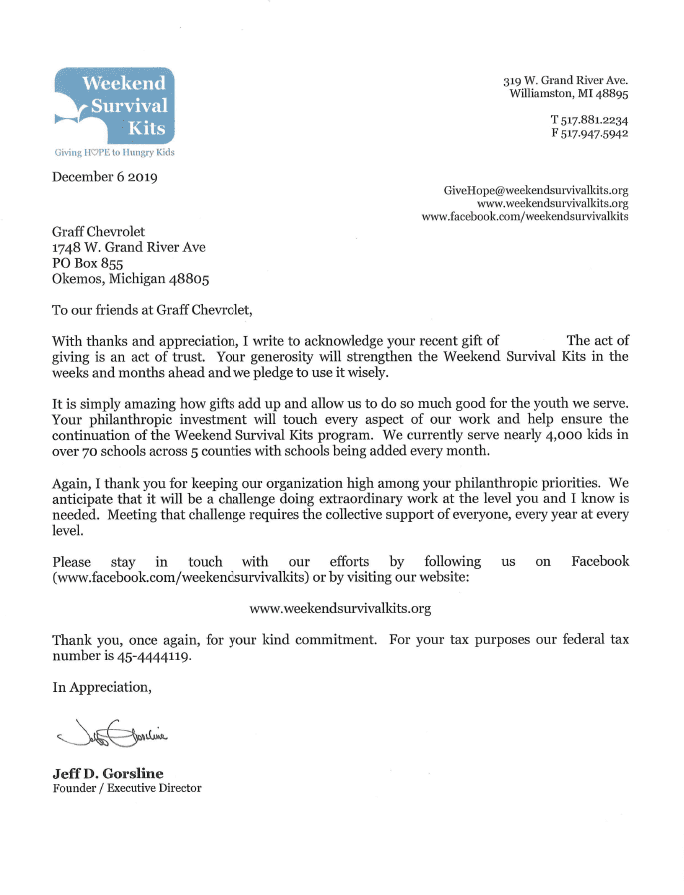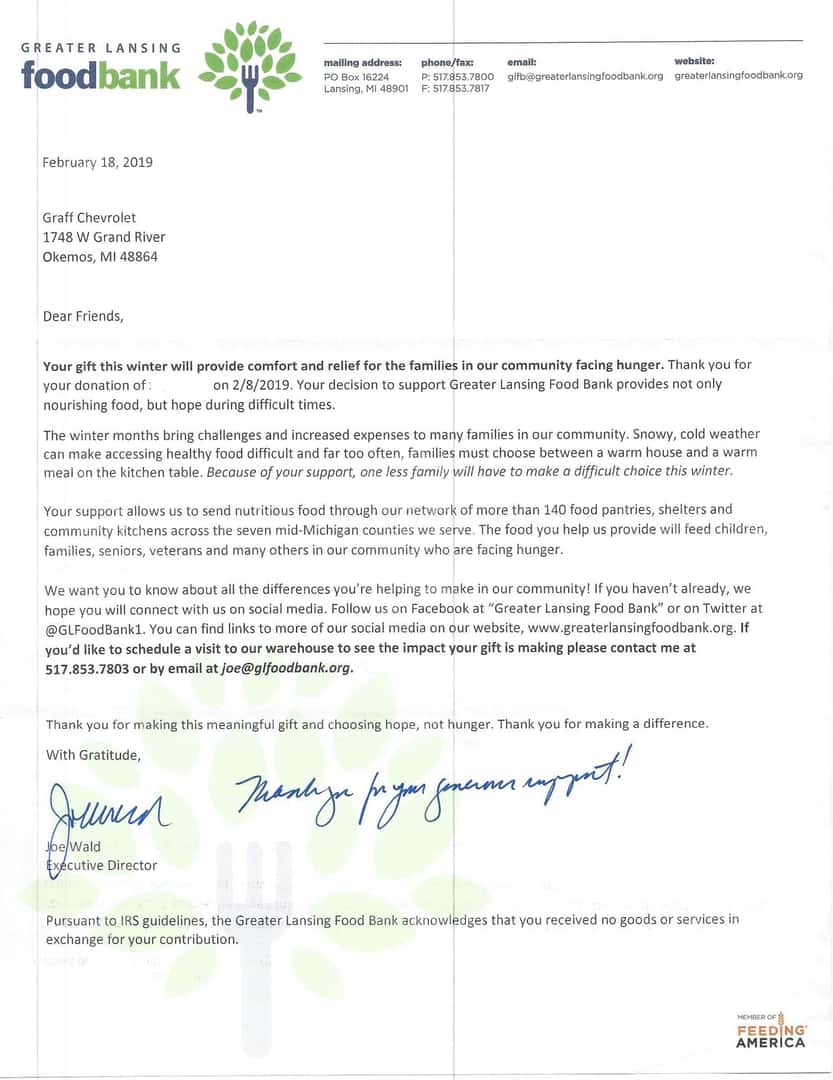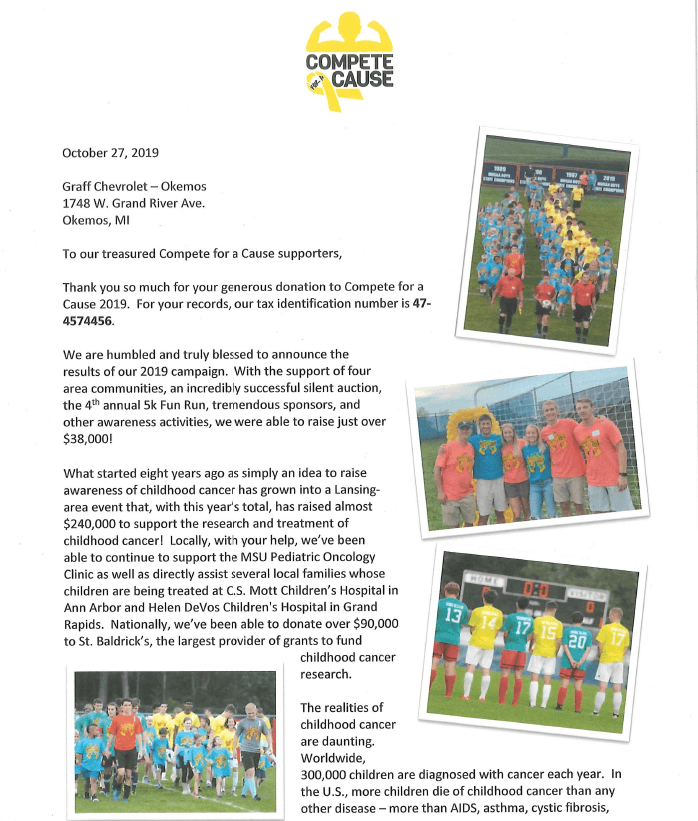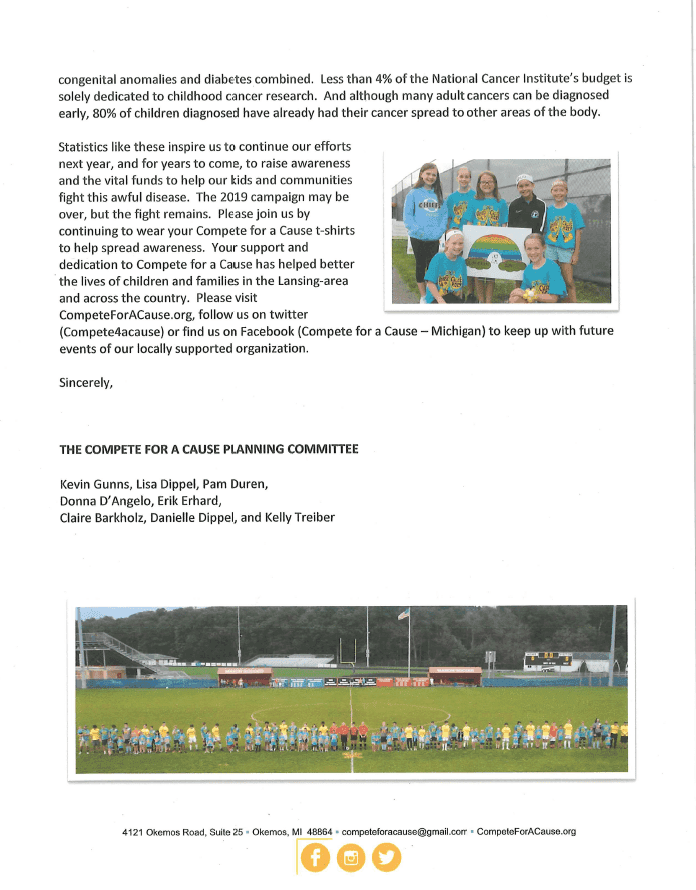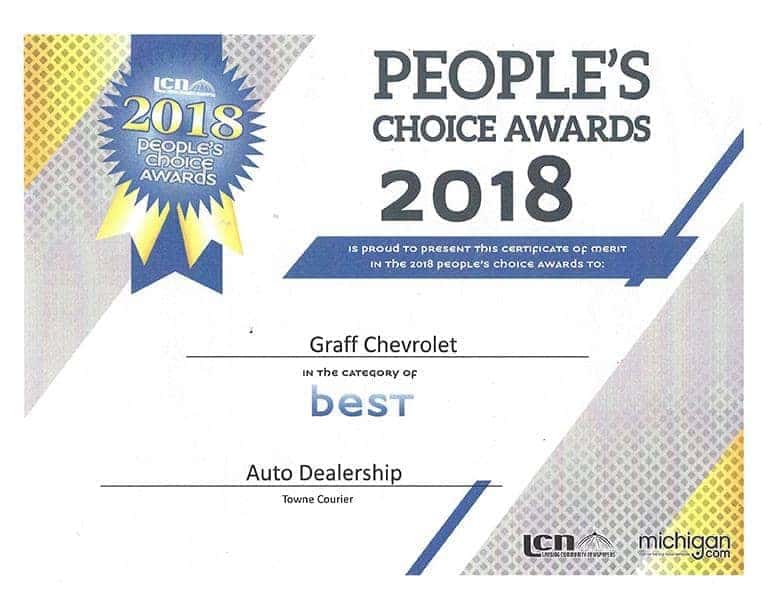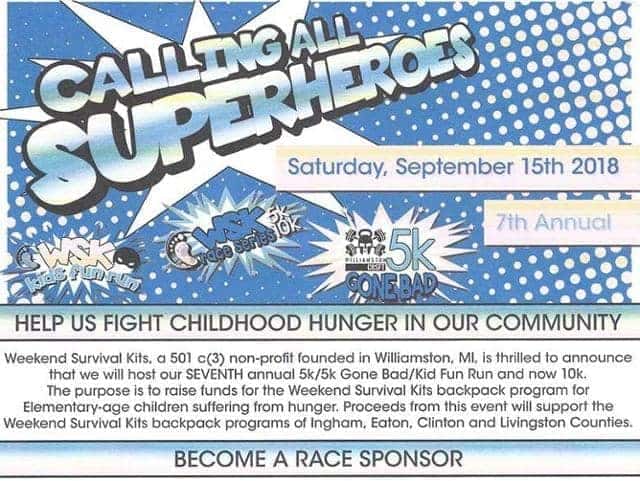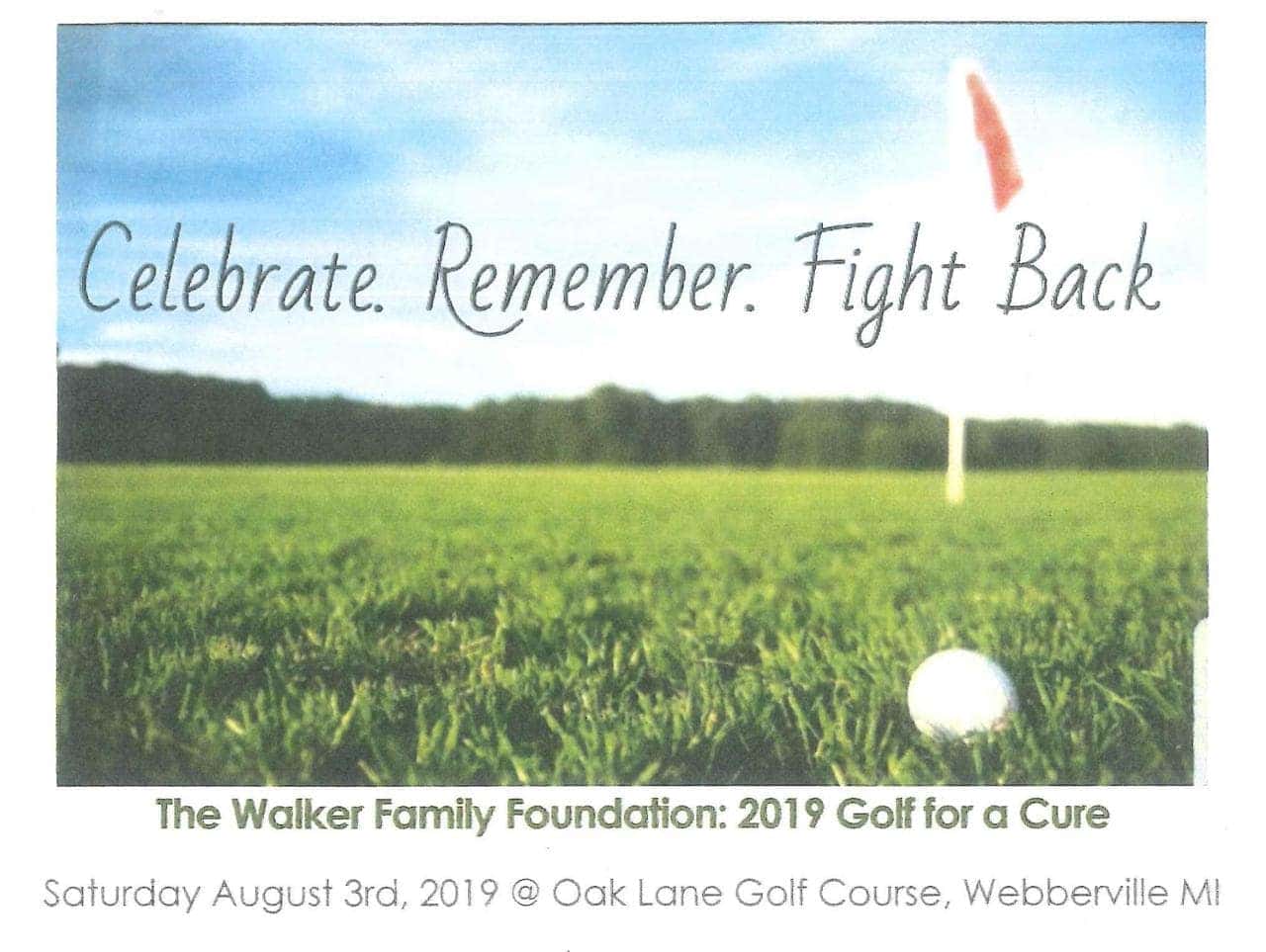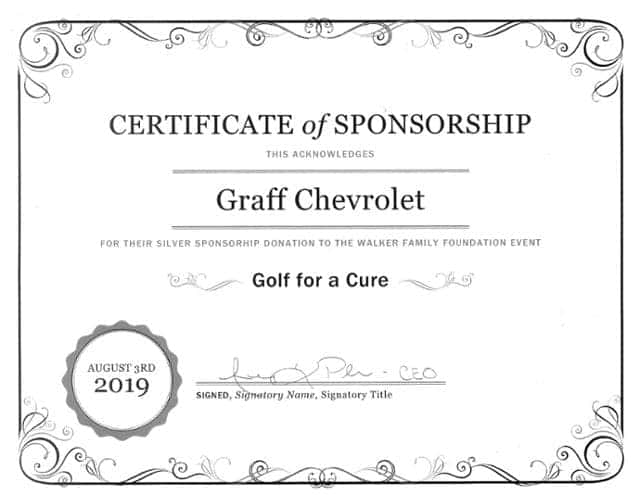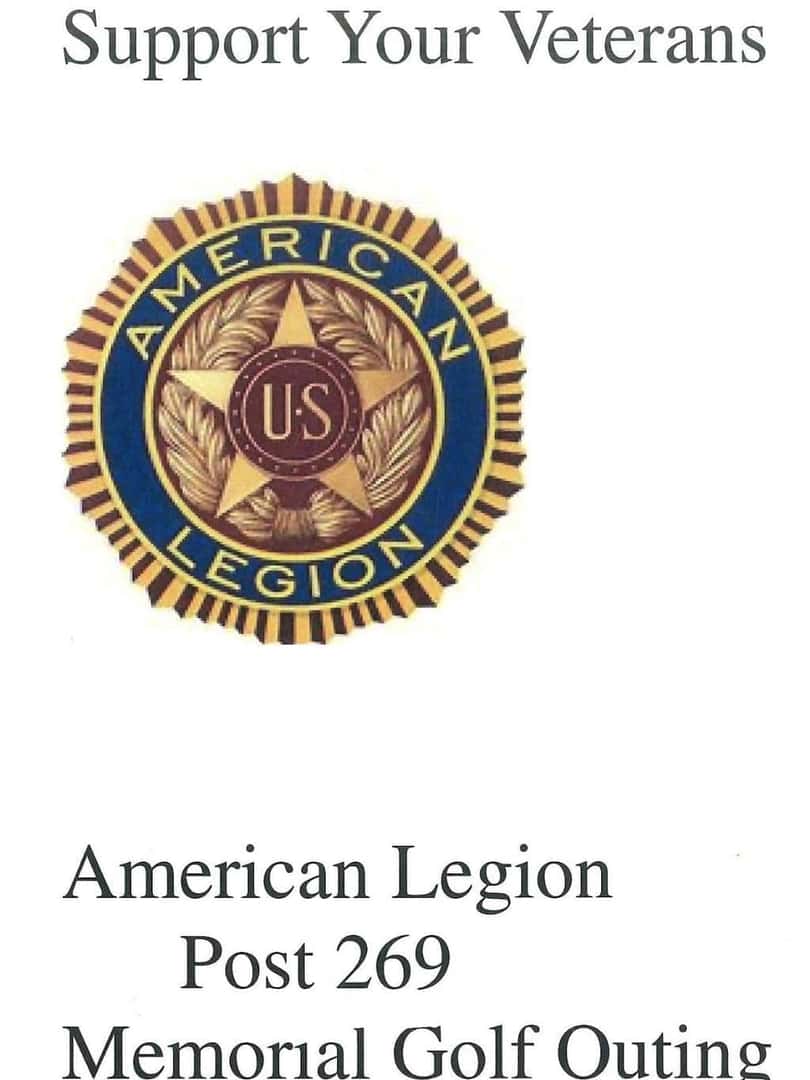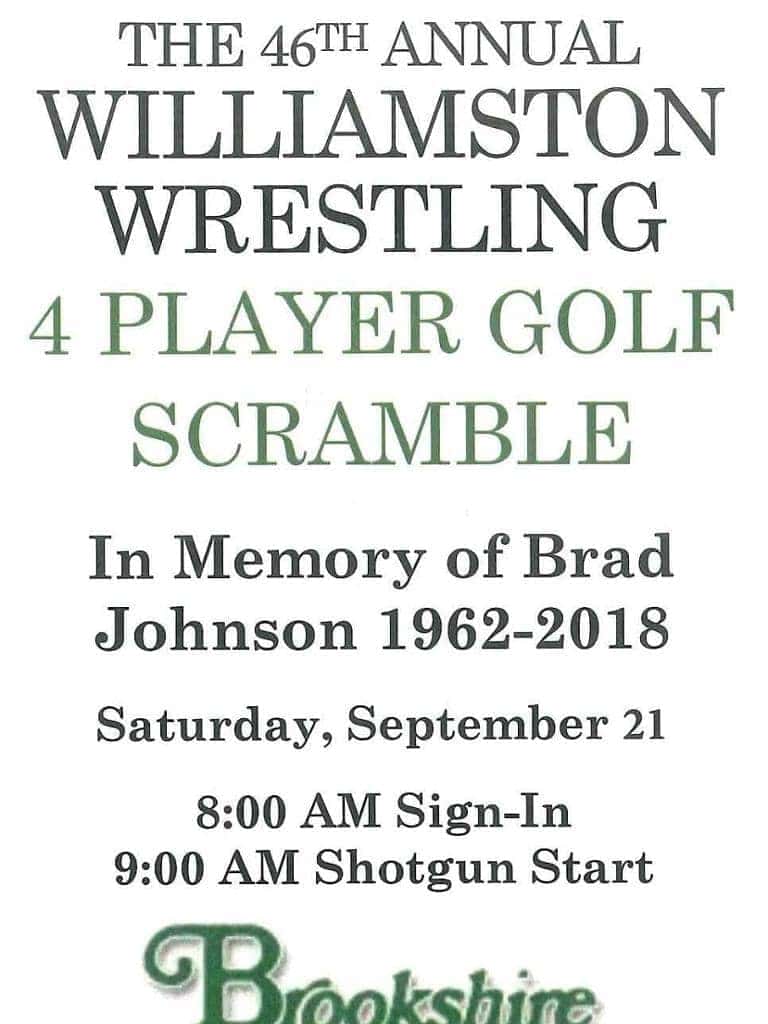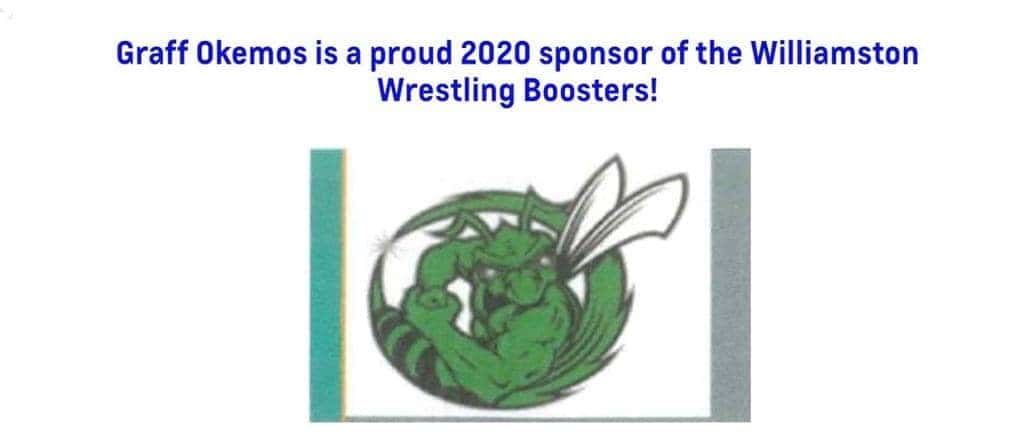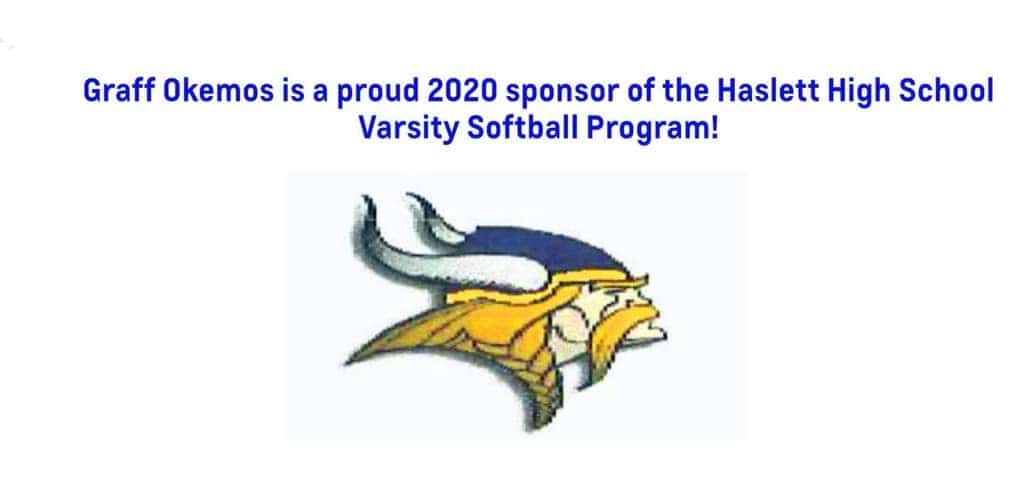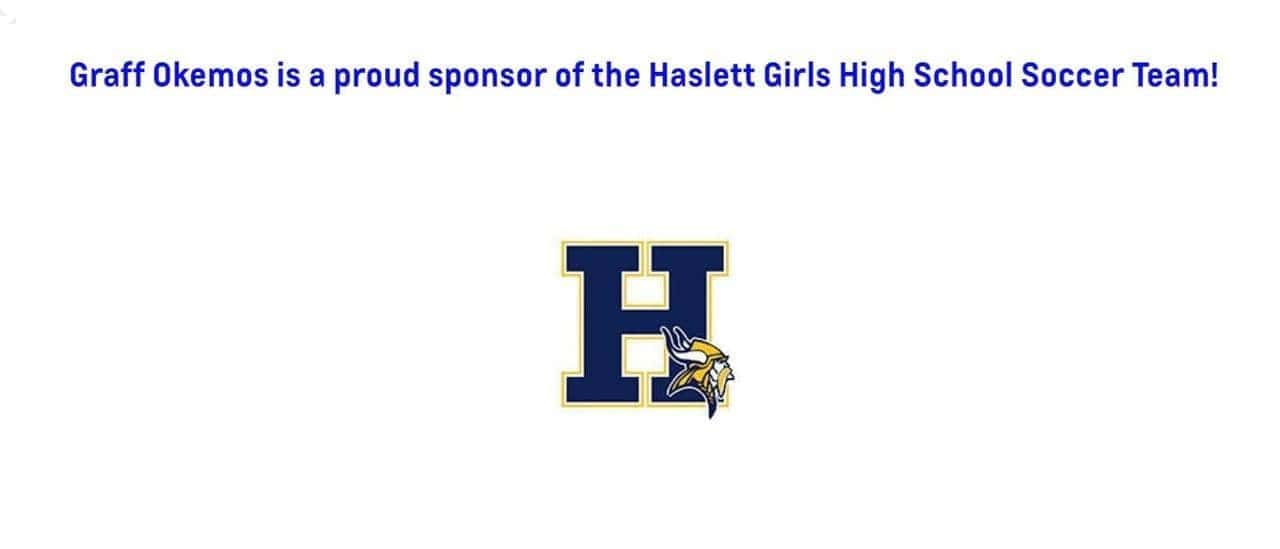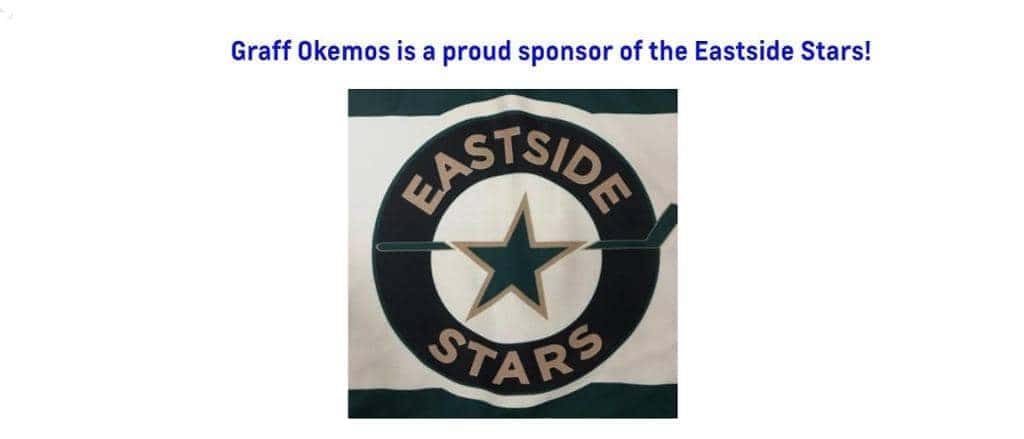 THE GRAFF FAMILY AND COMMUNITY INVOLVEMENT IN OKEMOS, MI!
Community involvement in Okemos, MI is important to the Hank Graff Chevrolet Okemos family. We will continue to support our local community however we can, and have fun doing it. We hope you'll join us in getting involved with causes that matter to you!

BACK THE BADGE MICHIGAN – INAUGURAL BACK THE BLUE 5K
It was our pleasure to help make the first ever Back the Blue 5K in Lansing a huge success in partnership with Back the Badge Michigan! The 5K took place in September in Lansing to support and celebrate local officers, active and fallen, who have put their lives on the line daily to keep our communities safe and sound. Proceeds from the event went to Back the Badge initiatives such as K9 trauma kits and Thank an Officer projects. We're proud to honor our local law enforcement in the Greater Lansing Area for everything they do!

OKEMOS HIGH SCHOOL BANDS – 2019 OHS BAND CAR WASH
At Graff Okemos, we love to support educational efforts in our own community. This year, we made a donation to the Okemos High School Band Boosters for their 2019 OHS Band Car Wash. Over 500 vehicles attended the event, raising money for the needs of the Okemos High School music programs including new purchases and maintenance of uniforms and instruments, travel costs, and hiring of clinicians to improve the students' music playing. We're proud to help the music program at OHS succeed this year!

SAFARI CLUB INTERNATIONAL PHEASANT HUNT
On October 29th, 2017, we'll be sponsoring the Lansing Area Chapter of the Safari Club International's second annual Pheasant Hunt! Celebrating the accomplishments and achievements of our heroic veterans, this free event will take place at the Crooked Foot Hunting Club in Owosso, Michigan. We're proud to sponsor the Safari Club International's Lansing Area Chapter in their efforts to pay tribute to those who have served our country.

CAPITAL BALLET THEATRE OF MICHIGAN
We're very excited to sponsor the Capital Ballet Theatre of Michigan! For the past 38 years, they've fostered the development of the ballet community among the youth of Ingham County. Our sponsorship will help to bring two dance productions to the stage of the Capital Ballet Theater of Michigan. We're proud to help provide the youth of Ingham County with arts education and hope to continue to do so for years to come!

OEF AWARDS BANQUET
Every year, the Okemos Education Foundation holds a banquet in honor of the staff, faculty, alumni, and volunteers that make a difference in the Okemos school district. Funds raised during the OEF Awards Banquet will support all levels of the Okemos Public School District, providing financial support to give Okemos students a greater chance of success. Enjoy food, entertainment, and make an impact in your community at the Kellogg Center on Thursday, November 16th at 5:30!

HBA OF GREATER LANSING TOYS FOR TOTS DRIVE
The Home Builders Association in the Greater Lansing Area is hosting their annual Toys for Tots drive at the Eagle Eye Golf Club on December 7th! Last year, the HBA raised over $26,000, donating over 5,700 toys to less fortunate children in the area. Stop by the dinner on December 7th at 6:00 and give back to a great cause. Don't forget to bring an unwrapped toy to donate!

GENERAL MOTORS LANSING REGIONAL CHARITY GOLF OUTING
On Sunday, September 17th, we'll be sponsoring the 11th Annual General Motors Lansing Regional Golf Outing at Centennial Acres! Register before August 11th to enjoy a great game and a silent auction full of prizes. Any money raised will go towards the Turning Point of Lansing, providing young African American men with a support network of role models. Come out and enjoy a game of golf with a great cause!

IT'S A BREAST THING 10TH YEAR ANNIVERSARY
It's a Breast Thing, a nonprofit headquartered in Lansing, will be celebrating its 10th anniversary at Eagle Eye Golf Club on October 3rd! We at Graff Okemos are proud to sponsor this event, which will feature a live and silent auction with food and refreshments available to any attendees. Funds raised from the event will go towards improving the lives of local breast cancer victims on their journey towards better health.

COUGAR FUN RUN
We're very excited to be sponsoring the Cougar Fun Run in Okemos, held by the Cornell Elementary School Parent-Teacher Organization! The fun run is held to raise money in order to support the school's activities through the year. Each grade will spend around 10 minutes walking and running the school track to help raise funds for the PTO. Money raised helps to provide teaching grants, field trips, activity feels, updated playground equipment, school improvements, and more to Cornell Elementary School. Come out to the Cougar Fun Run on October 20th!

ECO-SCHOOLS USA
Graff Okemos is honored to receive a certificate of recognition from the Eco-Schools USA of the National Wildlife Federation for participation in the Eco-Green Program. The Eco-Green Program connects K-12 schools with local GM employees to develop goals that result in environmentally friendly school and community activities, making the future a better place. We are proud to help build a sustainable future for the next generation and beyond at Graff Okemos!

AMERICAN LEGION POST #269 GOLF OUTING
This September, Graff Okemos is proud to sponsor the American Legion Post #269 Golf Outing. On its 80th anniversary, the American Legion in Halsett, Michigan will host a golf outing and birthday raffle before the MSU/Notre Dame Tailgate Party before kickoff. Funds raised will benefit the American Legion Patriot Fund, an emergency response fund for veteran's needs. Enjoy a game of 18 holes at Wheatfield Valley Golf Course in honor of our fallen comrades, courtesy of the American Legion.

2017 CAPITAL CITY COMIC CON
Graff Chevrolet Okemos is proud to be a sponsor of one of the fastest growing events in the Lansing Area! Capital City Comic Con began as Greater Lansing's first comic convention and has partnered up with The Reading People at the Capital Area Literacy Coalition to fight illiteracy and offer an Original Art Scholarship in Comic Studies for MSU students. We're more than happy to be a small part of a fun event that gives back to the community.

OUT OF THE DARKNESS WALKS
This September, Graff Okemos is proud to sponsor the American Foundation for Suicide Prevention's Out of the Darkness Walks. Bringing friends, family, and community members together, Out of the Darkness Walks fosters a community of passionate supporters who unite with the likeminded goal of suicide prevention. Funds raised from the Out of the Darkness Walk will go towards the creation of public policy, educational programs, and supporting survivors of suicide loss.

ADAM D. NEVELLS MEMORIAL FUND
We at Graff Okemos are proud sponsors of the Adam D. Nevells Memorial Fund. In honor of Adam Nevells and all of the good he did within our community of Okemos, the Adam D. Nevells Memorial Fund has provided its community with over $27,000 in scholarships and grants. The Adam D. Nevells Memorial Fund uses money received through donations to enrich and strengthen the community that was near and dear to Adam's heart. On Sunday, August 27th, we will be sponsoring the Adam D. Nevells Memorial Golf Outing and Dinner at the Wheatfield Valley Golf Course.

MERIDIAN TOWNSHIP 175TH ANNIVERSARY BLOCK PARTY
This year, Graff Okemos is a proud sponsor of the Meridian Township's 17th Anniversary Block Party, hosted at Spartan Dance & Fit Center! With live performances from the Spartan Dance Company, food vendors, free dance classes, and more, you won't want to miss this once-in-a-lifetime event!

BACK THE BLUE 5K
We are proud to support Back the Badge Michigan's Back the Blue 5K this year. Back the Badge Michigan is a group that honors and supports Michigan law enforcement, providing them with equipment purchased through fundraisers to aid local departments. Back the Badge Michigan's biggest goal is to bring communities together with the police to make their local neighborhood a better place.

CORNELL ELEMENTARY COUGAR RUN
Supporting the community means giving back to all ages. This year, Graff Chevrolet proudly sponsored the Cornell Elementary Cougar Run in Okemos! Sponsorship contributions will go towards classroom supply purchases and field trips for Kindergarten through 4th grade students in goals of enriching learning and providing meaningful educational practice. We look forward to hearing about our local students' success throughout the school year!

KNIGHTS OF COLUMBUS ANNUAL CHARITY GOLF OUTING
Graff Chevrolet Okemos is proud to sponsor the Knights of Columbus Annual Charity Golf Outing. Council #7545 will be holding their outing on August 13th this year in Williamston, MI and will be donating profits from the event to Cancer Society for Sarcoma, the Williamston Food Bank, and Holy Cross Services in memory of their late member Mike Pitlanish. We're happy to sponsor this fun event, hosted by such a great organization that gives back to our community year-round!

FOSTERING FUN SQUIRT GUN 5K
We are very excited to sponsor the Fostering Fun Squirt Gun 5K this summer! The 5K supports Love In Deed, a nonprofit organization dedicated to supporting Michigan foster families and children with shoes, clothing, and other items at no cost to the family.

2017 AARP MICHIGAN CHARITY GOLF CLASSIC
This golf event is a charity to support AARP's mission "to enhance the quality of life for all as we age." We're humbled to be a sponsor for this event, where all proceeds will go to the Greater Lansing Housing Coalition. This organization is one that provides free home safety repairs for low income seniors, Veterans, and persons with disabilities!

CELEBRATE MERIDIAN FESTIVAL
We're so proud to be a small part in the Meridian community and we're proud to sponsor a beverage tent at one of the year's most fun events! The Celebrate Meridian Festival will be held in and around Central Park on July 1st this year. The event brings together neighborhoods, families, and businesses for a fun time with live music, outstanding food and beverages, and more. We hope to see you there.

8TH ANNUAL 2017 PUMPSTOCK MUSIC FESTIVAL – EAST LANSING, MI
Graff Chevy Okemos is happy to sponsor fun events in the local area, including the 8th Annual 2017 Pumpstock music festival in East Lansing. This music festival features American Roots music across two stages outdoors at Bailey Park. Kids get in free, and all are welcome for an afternoon of fun, music, and food. We hope to see you all there!

FRIDAY NIGHT CONCERTS AT LAKE LANSING SOUTH – INGHAM COUNTY PARKS
At Graff Chevrolet Okemos, we're proud to sponsor good times and great music in our own community. This year, we've become a presenting sponsor for the Ingham County Parks Lake Lansing South Band Shell stage, which hosts a free-admission concert every Friday during June, July and August. We hope to see you and the rest of the Lansing community out there on Friday nights this summer season!

MERIDIAN CARES & GRAFF OKEMOS SUPPORT MERIDIAN TOWNSHIP
At Graff Okemos we are strong supporters of our local community which is why we are proud to partner with Meridian Cares on the Meridian Cares Emergency Needs Fundraiser. This fundraiser helps prevent local Meridian Township seniors, children, and families from going hungry, cold, or even losing their homes in the event of an emergency. We look forward to continuing to support our neighbors and friends.

MSU WAKEBOARD CLUB – 3RD ANNUAL SPARTAN THROWDOWN
Graff Okemos is proud to be a sponsor of the 3rd Annual Spartan Throwdown wakeboard competition at Lake Lansing. This event is hosted by the Michigan State University Wakeboard Club and is expected to draw 12 collegiate teams from around the country! Go Green!

FRIENDS OF PARK LAKE 3RD ANNUAL SUMMER SOLSTICE PARTY
The Friends of Park Lake will be hosting the 3rd Annual Summer Solstice party on June 23rd to benefit our local beach, boat launch, and fishing pier! Graff Okemos is excited to be a sponsor of this year's event and happy to assist in keeping our community beach a fun, clean place for everyone to enjoy!

EAST LANSING ROTARY CLUB PANCAKES IN THE PARK
Graff Okemos is delighted to be a sponsor of the East Lansing Rotary Club's Pancakes in the Park Event! This year's event will take place on June 4, 2017 and proceeds will benefit Haven House and Helping Hands Respite Care.

3RD ANNUAL BAFO GOLF OUTING
Graff Okemos is happy to show our support for the Bath Alumni Football Organization! On June 16, 2017 at Timber Ridge Golf Course, the 3rd Annual BAFO Golf Outing will take place. Proceeds from the event will go to the Bath High School Football Team.

7TH ANNUAL RACE FOR RAYLA
On May 21, 2017, the 7th Annual Race for Ralya will take place at Ralya Elementary School in Haslett. This Toddler Fun Run, Kid's Fun Run, and 5K event will help provide necessary funds to continue educational projects that fall outside the norm of the average school experience. Graff Chevrolet Okemos is proud to support Ralya Elementary School and their unique educational activities!

13TH ANNUAL MAX'S RACE
On June 24, 2017, the 13th Annual Max's Race will take place in Lansing. Hosted by the Maxwell Matthews Foundation, this annual event raises community awareness about bacterial meningitis and raises funds for local families affected by childhood illness. Graff Chevrolet Okemos is proud to sponsor this community event!

39TH ANNUAL GOLF OUTING PUTT FOR A PURPOSE
Graff Chevrolet Okemos is proud to be a hole sponsor for this year's 39th Annual Golf Outing Putt for a Purpose, taking place on June 10, 2019! Proceeds from this event benefit Highfields, an organization that provides in-home counseling, after school programs, and residential treatment to the surrounding local areas! • Take out the last sentence on the tile about what last year profited.

TOYS FOR TOTS
At Graff Okemos, we are proud to support the Home Builders Association of Greater Lansing and the United States Marine Corps Reserve in their generous donation to Toys for Tots! With help from Graff Okemos and many other local businesses, 5,783 toys were purchased and collected for Toys for Tots this past holiday season!

HASLETT CHOIR BOOSTERS
The Haslett Choir Boosters is a non-profit organization in Meridian Township that promotes the Haslett Choral Program. Graff Okemos is happy to be an exclusive sponsor for the 2019 HCB Road Rally. Good luck to all the talented singers in the Haslett Choir!

THE AMERICAN LEGION OF HASLETT
Graff Chevrolet Okemos is honored to support and sponsor The American Legion Post 269. This U.S. Veterans Association chapter, located in Haslett, MI, aids Veterans from all branches of Armed Forces and their families in times of need along with supporting community programs and projects!

C.H.U.M. THERAPUTIC RIDING
We love providing support to small organizations in the Okemos area! This year, Hank Graff Chevrolet Okemos is glad to aid C.H.U.M. Therapeutic Riding at their Rise Up for Spring; C.H.U.M.'s Night Out event! This event provides necessary funding to C.H.U.M. so they may continue to offer therapeutic horseback riding, hippotherpay, and competitive and recreational riding support to individuals with and without disabilities.

FOUNDTION FOR HASLETT SCHOOLS
Graff Okemos is happy to support the Foundation for Haslett Schools Got Taste, Got Talent! event. This event provides funding to programs that are outside of the school budget, such as computer hardware and software programs and new equipment for Haslett High School's award-winning cable access channel The Vision.

29TH ANNUAL MEALS ON WHEELS CHARITY GOLF OUTING
This year, Graff Okemos is proud to be a Hole Sponsor at the 29th Annual Meals on Wheels Charity Golf Outing at Forest Akers West Golf Course in Lansing. The proceeds of this event will benefit the Tri-County Office on Aging Meals on Wheels Program. This program offers nutrition delivery services to seniors in the community who are homebound or unable to prepare or purchase meals for themselves. In 2016, this event raised over $27,000 to support seniors in the Lansing area!

WILLIAMSTON SUNS BASEBALL
Graff Okemos is proud to be a Homerun Sponsor for the 2017 season of Williamston Suns Baseball, because their goal to enrich children's lives is important to us. The Williamston Suns is a non-profit organization that brings kids together for the love of the baseball, but more importantly to promote sportsmanship, honesty, loyalty, courage, and reverence with a primary focus on molding future citizens. We look forward to seeing these kids win on and off the diamond. Go Suns!

UAW LOCAL 602
At Graff Chevrolet in Okemos, we are proud to support the efforts of Lansing's UAW Local 602 and the impact they are making on our local community. Each year, UAW Local 602 hosts their Bowling for Breast Cancer event to support the fight to find a cure with the American Cancer Society. We are happy to participate in this annual event to help end this terrible disease that affects so many of us.

MASON OPTIMIST CLUB
The future of our local youth is extremely important to Graff Chevrolet Okemos, which is why we're proud to partner with the Mason Optimist Club to help fund their efforts to support the kids in our community through academics, the arts, and athletics. Through this partnership, the Mason Optimist Club is able to improve the experiences of the youth in our local community.

CAPITAL AREA CAREER CENTER
The Capital Area Career Center is a public educational agency that features an Aviation program, of which Graff Okemos is proud to support. Through this program, students receive instruction and training in the Aviation field. We find the students' excitement about their future in Aviation to be inspiring, and are happy to support their journey.

GIRL SCOUTS HEART OF MICHIGAN
The Girl Scouts Heart of Michigan is a community organization that works with young girls by helping them develop leadership skills to become stronger and more confidant women. In 2016, we sponsored the Girl Scouts Heart of Michigan Bake Off Event for the Outreach Lansing Region Fund. Through this event, the Girl Scouts Heart of Michigan are able to help low income and at risk girls in the community.

HIGHFIELDS MID-MICHIGAN
Graff Okemos is happy to support Highfields in Mid-Michigan in their annual Golf Outing to help support the programs Highfields provides to 11 counties in Mid-Michigan. As their mission statement outlines, Highfields aims to provide opportunities to children, youth, and families, to be more responsible for their own lives and to strengthen their relationship with others.

PARKWOOD YMCA
At Graff Okemos we believe strongly in our community, which is why we're proud to partner with the Parkwood YMCA to support their community programs and services that impact local children and families. Together we can strengthen our community and ensure a brighter future for Mid-Michigan.

AUTISM SOCIETY OF MICHIGAN
The Autism Society of Michigan aims to provide hope, make human connections, and change lives, so we couldn't be more humbled to support this amazing organization. In 2016, Graff Okemos had the opportunity to support the Autism Society's 5K Run/Walk, helping the organization host a successful event that supports their initiatives throughout the year.

VOLUNTEERS OF AMERICA – MICHIGAN
In an effort to support those in need in our local community, Graff Okemos is happy to support the Volunteers of America Michigan chapter with their Lansing programs. Through their efforts, and programs like Homeless No More, Volunteers of America is making our community a better place for everyone from all walks of life.

CAPITAL AREA HUMANE SOCIETY
At Graff Okemos we couldn't be happier to support the mission of the Captial Area Humane Society, especially since they receive no tax dollars or government funding. Annually, the Humane Society cares for more than 10,000 animals in the greater Lansing community. Through this partnership, we are able to help the Capital Area Humane Society provide love, food, shelter, and medical care to homeless and abandoned animals.

FOUNDATION FOR HASLETT SCHOOLS
Graff Chevy Okemos is happy to support the Foundation for Haslett Schools in their mission to provide enrichment programs, technology updates, and various scholarships to students in the Haslett School District. Not only is it exciting to support specific events like the 2016 "Got Taste, Got Talent!" event, but it is rewarding to know that by partnering with the Foundation for Haslett Schools, we're helping to enhance the education of our local students.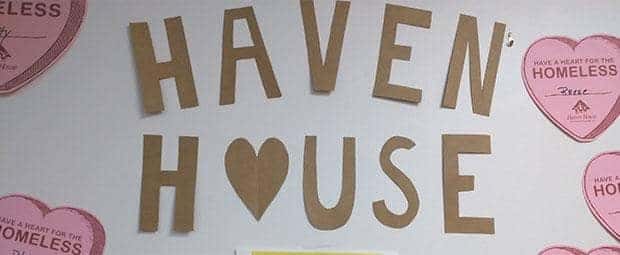 HAVEN HOUSE FOR THE HOMELESS
Graff Okemos strongly believes in the future of our local community which is why we are humbled to partner with Haven House of Greater Lansing to help raise awareness for the local homeless families in need in our community. Throughout the winter we accept $1 donations to personalize a heart signed with your name to be hung around the dealership, showing our community's support for Haven House. This local organization has been helping homeless families find permanent housing since 1983, while also providing food, clothing, and shelter to homeless families in the Lansing area. They also provide residents with the opportunity to get involved in programs to improve their lives in the future.

WILLIAMSTON AREA SENIOR CENTER
Graff Okemos is happy to support the Williamston Area Senior Center since this non-profit organization does not operate on a regular source of income. Donations and support from local individuals and organizations is what helps the Senior Center continue to provide their charitable services.

INGHAM COUNTY ANIMAL SHELTER FUND
The Ingham County Animal Shelter's Zombie Prom is a fantastically spooky event that Graff Okemos is happy to sponsor, however it's the underlying cause that we're truly passionate about. Through involvement with the animal shelter we're able to support the needs of the thousands of homeless animals that visit the Ingham County shelter each year.

OKEMOS HIGH SCHOOL BAND
Graff Okemos is proud to support the Annual Band Car Wash-A-Thon, the primary fundraiser for the Okemos High School Band. We're also proud to announce that fundraising for 2015 was a huge success with over $25,500 raised throughout the year and over 1,000 people involved in the Car Wash-A-Thon! The community's support allows this music program to continue to perform.

ST. KATHERINE'S GOLF OUTING
In 2015, Graff Chevrolet Okemos was excited to receive the opportunity to be part of the Inaugural St. Katherine's Golf Outing benefitting the Greater Lansing Food Bank. Thanks to the impressive involvement at the inaugural event, almost $6,000 was raised to allow the Lansing Food Bank to continue to provide for those in need in our community.

WOMEN'S CENTER OF GREATER LANSING
We would love to help everyone in our Lansing community realize their potential and partnering with the Women's Center of Greater Lansing has allowed us to take a step in the right direction! This non-profit organization is committed to providing valuable resources and services, mutual support, insight, and growth for local women of all backgrounds.

TRI-COUNTY OFFICE ON AGING DINNER & AUCTION
In an effort to promote and preserve the independence and dignity of our community's aging population, Hank Graff Chevrolet in Okemos is proud to support the Tri-County Office on Aging in their Annual Dinner & Auction. Since public funding alone cannot meet the needs of our community, the funds raised from this event benefit Meals on Wheels and help keep older adults independent and in their own homes.

MERIDIAN TOWNSHIP COMMUNITY RESOURCES PROGRAM
Graff Okemos is honored to be able to support the Meridian Township Community Resources Program to help provide emergency financial assistance to those in need in our community to help prevent severe economic hardship. We are humbled to say that in 2014, 470 households were served through the Community Resources Program.

FRIENDS OF PARK LAKE
Park Lake is an enjoyable destination for people from our local community to go and enjoy nature, which is why Graff Okemos is happy to join with the Friends of Park Lake to support the Summer Solstice Celebration. We are excited about all the recent improvements to the lake and look forward to spending even more time at Park Lake.

SPRING FLING AUCTION
At Graff Okemos, the education of our youth is extremely important to us. We know that the time our children spend at school is valuable so we are proud to support Okemos Public Montessori and their annual silent auction to help raise funds for student field trips, upgrades to school grounds, sports equipment, teacher needs, and materials for the classroom.

SUSAN G. KOMEN
In April 2014, The Graff Girls at Hank Graff Chevrolet Okemos participated in the 5k Susan G. Komen Race for a Cure in Lansing, and also hosted a bake sale to raise funds for a cure.

INGHAM COUNTY FAIR
In 2014, Graff Chevrolet Okemos had the winning bid on the prize-winning pig at the Ingham County Fair, thanks to our awesome General Manager, Matt Sloan! Congratulations to Asa Rowntree (Dansville) for raising the winning Supreme Reserve Grand Champion Market Swine!

MAXWELL MATHEWS' FOUNDATION
In July 2014, we partnered with Maxwell Mathews' Foundation to help raise community awareness about bacterial meningitis and to help raise funds to help local families affected by childhood diseases.

LANSING TEEN CHALLENGE
In August 2014, we participated in the Lansing Teen Challenge's annual Sisters Maternity Center Golf Outing, which raised funds to help young pregnant women live sober, balanced lives.

CAPITOL CITY BAPTIST SCHOOL
When it comes to our youth, we believe it is extremely important for us to support their educational journey as they grow into young adults. Graff Okemos is proud to support the continued education of our area's youth from Pre-K through 12th grade through our involvement with Capitol City Baptist School.

ELE'S PLACE
Hank Graff Chevrolet Okemos is proud to support Ele's Place, a charitable organization that offers support to grieving children who have lost a loved one. In 2014, we hosted fundraisers for Ele's Place, including a casual dress day fundraiser, and provided potluck meals for the families and volunteers.

MONTESSORI RADMOOR SCHOOL
Montessori Radmoor School's "Taste of Radmoor" event helps to raise funds for the school's improvement fund to continue to develop and educate our local children. This year, Graff Okemos was happy to support the event which raised almost $3,000 through the involvement of over 30 local businesses.

MARINE CORPS RESERVE TOYS FOR TOTS COMMANDER'S AWARD RECIPIENT
Through our continued support of the Home Builders Association of Greater Lansing Marine Toys for Tots Program, our generous donations have been recognized by the Marine Corps Reserve. Due to our heavy involvement in this program and as a token of our efforts, we've been awarded the U.S. Marine Corps Reserve Commander's Award. Our contributions over the years have enabled the Marine Corps to spread Christmas cheer and deliver a message of hope to America's less fortunate children.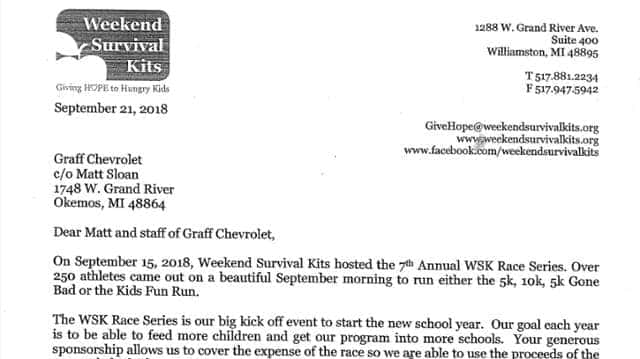 WEEKEND SURVIVAL KITS
Weekend Survival Kits is a Michigan-based nonprofit that strives to provide food on the weekends to children in grades K-5. They fight hunger across mid-Michigan in 54 schools and 12 school districts, providing nutritional meals to children during non-school hours. Giving these children nutritional nourishment removes the barrier of hunger to academic success, ultimately helping them to achieve success in all their endeavors.